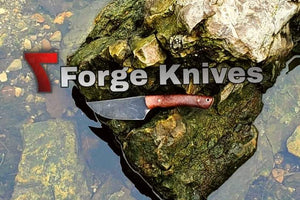 Who is 7Forge For?
Here at 7Forge we specialize in high quality,hard use knives that are hand made in Des Moines, Iowa. Each of our knives are hand ground and completely unique. No two knives will ever be exactly the same even if we were to use the same materials for each build. We grind each blade freehand with no jigs and we grind every handle from blocky scales into the highly contoured and ergonomic handles you know and love.
Our knives are made for people who need a blade to rely upon for their outdoor and edc needs. From cutting open boxes and packages to creating one stick fires, our knives are made to take whatever you throw at them and with our unlimited warranty we guarantee that they will be with you for life.
You may be wondering who 7Forge is not for and that is a valid question. There are a few factors that could make 7Forge the wrong fit for your knife needs.
1. 7Forge may not be for you if you prefer machine ground exactness. Though we hold ourselves to a high quality control standard, the handmade nature of our knives means that no two will ever be exactly the same.
2.7Forge may not be for you if you prefer single use or replaceable knives. There is nothing wrong with using chinese made knives you can find on amazon or in big box stores however it should be noted that these knives are not of the same caliber you will find with 7Forge. Another valid argument that this crowd might make is that they could buy 10 knives off amazon for the price of a 7Forge knife and for those that would prefer to go that route, we would recommend and encourage it.
If you are interested in a handmade knife built in the United States out of high quality materials with an unbeatable warranty, then we believe that 7Forge would be a perfect fit for you.
---